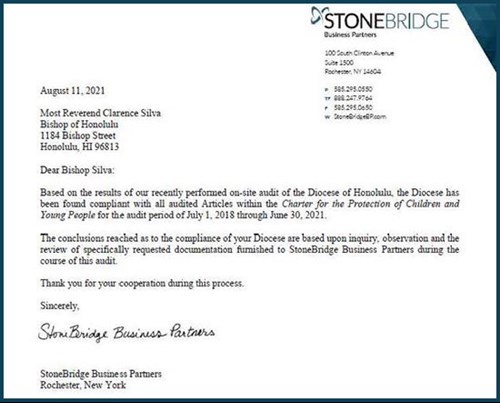 By Kristin Leandro
Director of Safe Environment, Diocese of Honolulu
A three-day virtual audit site visit that took place July 20-22, 2021 found the Diocese of Honolulu's Safe Environment policies to be in full compliance with the United States Conference of Catholic Bishops' (USCCB) Charter for the Protection of Children and Young People. The Charter is a comprehensive set of national standards and procedures established in 2002 to address the sexual abuse of minors by clergy.

The virtual site visit was organized by Stonebridge Business Partners, an independent firm engaged by the USCCB to conduct the audit. Audit site visits are conducted every three (3) years; the diocese also participates in a U.S. Bishops' annual paper audit.